20 NOVEMBER – 1 DECEMBER 2017 | FLORENCE – ITALY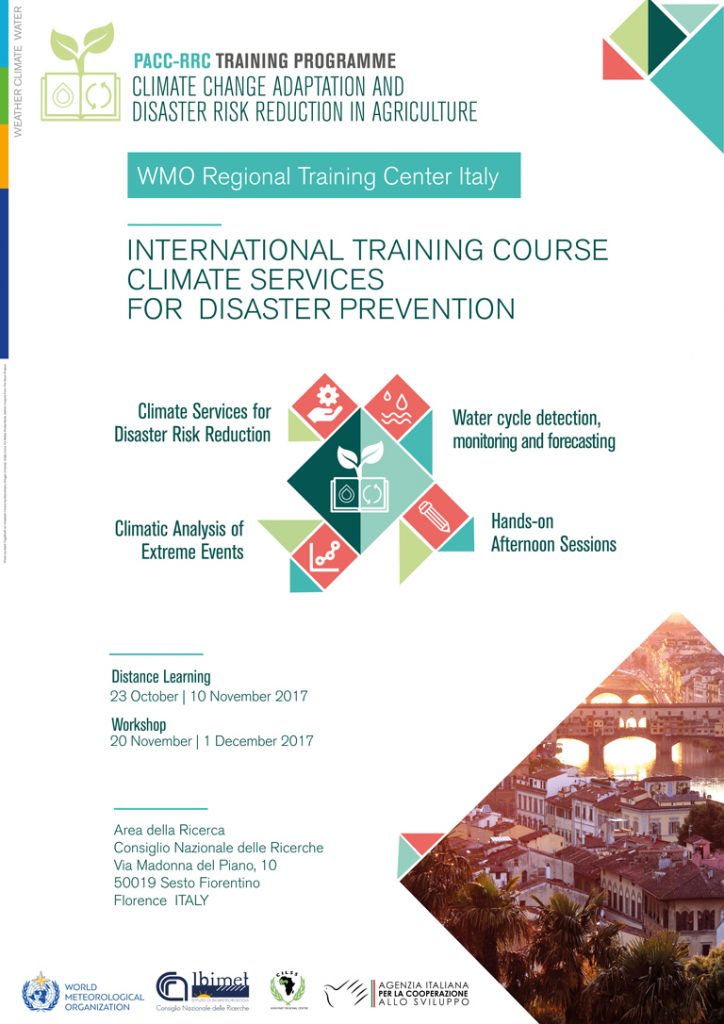 The International Training Course on "Climate Services for Disaster Prevention" is one of the steps of the PACC-RRC Training Programme on Climate Change Adaptation and Disaster Risk Reduction in Agriculture.
The Project Climate Change Adaptation and Disaster Risk Reduction in Agriculture is a training programme with the aim to reduce the impacts of Natural Disaster and Climate Change on the agricultural sector in West Africa.
This project is funded by the Italian Agency for Development Cooperation and realized by the World Meteorological Organization in collaboration with the Regional Training Center in Italy IBIMET-CNR and the AGRHYMET Regional Centre in Niger.
The course started on Monday November 20th at the CNR Research Area of Sesto Fiorentino, and lasted till Friday December the 1st. The workshop course has been preceded by a Distance Learning Training Course attended by all participants. The Florence Workshop is structured in Theoretical lecture in the morning and "hands-on" afternoons. At the end of the course the participants will be asked to complete the course evaluation questionnaire and a competency test.
The composition of the trainees that take part to the International Training Course on Climate Services for Disaster Prevention (CSDP) is very rich. This year there are 28 participants coming from the 17 different countries of the Western Africa CILSS/ECOWAS. Among them we have 6 women and 22 men, working all in the National Meteorological and Hydrological Services of their home Countries. The large part of the trainees are Meteorologists (19), followed by Agrometeorologists (5), Hydrologists (3), and 1 Meteo/Climatologist.