During the summer of 2022, we experienced extreme temperatures and water shortages. A droughty summer affected not only Italy but also the 64% of EUROPEAN UNION, as shown in the map by Copernicus Global Drought Monitoring.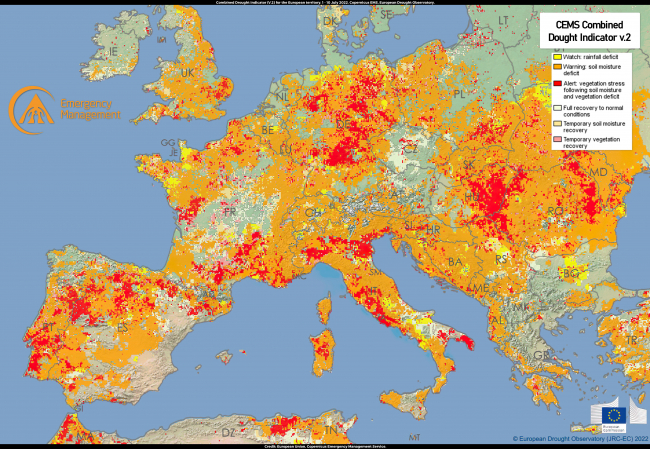 Credit: European Union, Copernicus Emergency Management Service
According to the EU's environmental programme Copernicus, the 2022 drought may be the worst Europe has experienced in 500 years. Scientific research also tells us that this is not a sporadic phenomenon but an ongoing trend leading to warmer and drier seasons that are likely to become the norm. In this context, information sharing and shared knowledge are supportive tools to improve better management of the impacts of drought. CNR-IBE contributes with a dedicated service and a specific training course.
Drought @ CNR-IBE
One of the research teams at the CNR-IBE focuses on drought research and delivers service through the Drought Observatory, a system providing a semi-automatic, detailed, timely and complete operational service. The aim is to support decision-makers, water authorities, researchers and other stakeholders through a monthly bulletin and a dedicated WebGIS.
Moreover, the WMO's Regional Training Centre Italy, run by CNR-IBE, developed a course on "Drought Management and Forecasting Basics" in the framework of TOPaCS (Training Operational Package for Climate Services).
This course proposes a set of introductory lessons given by internationally recognised experts.
Drought Management and Forecasting, Christel Prudhomme – Centre for Ecology & Hydrology – Loughborough University, NERC Centre for Environment
Drought Monitoring and Seasonal Forecasting, Ramona Magno – Institute of BioEconomy, National Research Council (IBE-CNR)
Assessment of Water Balances and Optimisation based Target Setting Across EU River Basin, Tommaso Moramarco – Research Institute for Hydrogeological Protection, National Research Council (CNR-IRPI)
About Drought: the role of scientists in responding to users' needs for drought management, Massimiliano Pasqui
Institute of BioEconomy, National Research Council (IBE-CNR)
Here is the short video presentation of the course.

---
Credits of the featured image of this post: European Union, Copernicus Sentinel-2 imagery acquired on 2 February 2022 by one of the Copernicus Sentinel-2 satellites, shows the Po River near Cremona in northern Italy.