In January 2016 CNR Ibimet started a collaboration with MagentaLab, in the framework of a project focused on traffic flow and air quality monitoring. The project will  be based on:
the low-cost platform "AIRQino" for air quality monitoring, developed by Ibimet, and already used in several projects on smart-cities
the Magenta platform for traffic flow.
Magenta and IBIMET are going to share their monitoring platforms and collect data, in order to investigate the correlation between traffic flows and the concentration of pollutants (CO2, NO2, CO)  in urban environments.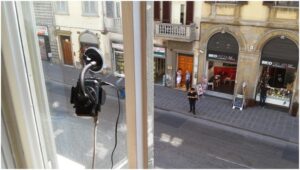 For this purpose, an AIRQino monitoring station has already been installed at Magenta headquarters, where it is also managed the sensor CHEST/TrafficFlow.
The collaboration is at its very early stage and it has already achieved a positive result: the paper "An integrated low-cost road traffic and air pollution monitoring platform for next citizen observatories", written by IBIMET's researchers and Magenta's engineers, has been accepted for presentation at the 3rd Conference on Sustainable Urban Mobility to be held in Volos, Greece, on 26-27 May 2016.